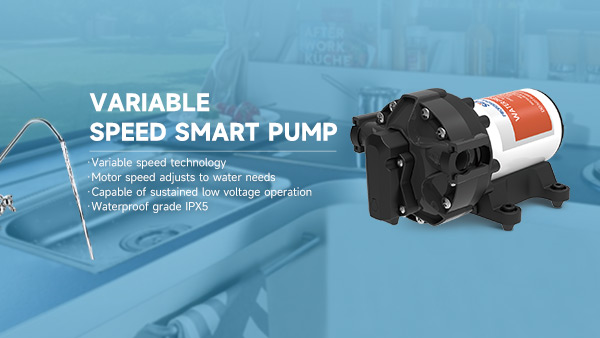 SEAFLO 56A series variable frequency diaphragm pump is a new type of product designed and developed by the company on the basis of traditional fixed frequency pumps combined with the latest frequency conversion technology. It highly integrates the motor, water pump and intelligent control system. The motor speed can be adjusted according to the water demand. It can independently complete variable speed and constant pressure water supply control, which can meet various water supply needs. Working conditions, to achieve dynamic balance water supply function.

MORE FEATURES & BENEFITS
• Variable speed technology.
• Motor speed adjusts to water needs.
• Capable of sustained low voltage operation.
• Run dry safe,long service life.
• Strong suction, suction lift up to 1.8m.
• Quiet operation,bypass technology reduces cycling.
• 5-chamber diaphragm pump operates more stably and smoothly.
• CE, UKCA, RoHS, REACH, PAHs

Applicable:
Pressurization and general water delivery for various equipment, such as ATV sprayers, solar systems, sanitation sweepers, etc.